++++++New Album on FMR Records++++++
Reincke//Hughes//Popple play "The Trio"
Bernd Reincke - baritone and soprano saxophone, bass clarinet
John Hughes - bass 
Chad Popple - drums
Reincke//Hughes//Popple focus on the music of "The Trio" and thus the compositions of John Surman, Barre Phillips and Stu Martin. Formed in 1969, "The  Trio"  was one of the most original and inspirational European or European-based bands (Martin and Phillips were American expatriates), whose music has unjustly been forgotten. Reincke//Hughes//Popple provide their own original interpretations, using the tunes as a springboard for powerful swinging moments, free improvisations, sizzling duets and unexpected energy explosions.
  " I was a little nervous before listening to the album because,
as you can imagine, I have many good memories of working
with Stu & Barre and it is difficult to imagine the music any
other way! But as soon as I put the CD on and started to listen
   I relaxed and enjoyed the sounds. I am very happy that you
are finding so many new areas to explore in this music. I think
it is great that you are finding different ways of approaching
the themes and also creating new material that fits in context
with the original trio material. The importantthing is that you 
are able to express yourselves and thus allow the music to
develop and move forward.
I wish you all the best for the future and hope that YOUR TRIO
can go from strength to strength!!"
John Surman
Jan. 2017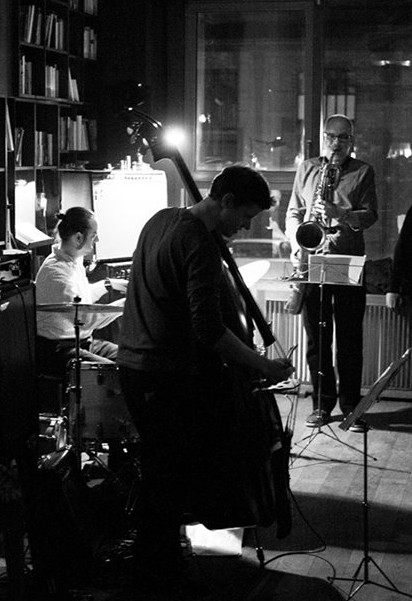 Reincke//Hughes//Popple spielen "The Trio"
Bernd Reincke - Bariton- und Sopransaxophon, Bassklarinette
John Hughes - Bass 
Chad Popple - Schlagzeug
Im Fokus steht die Musik der Band "The Trio" und damit die Kompositionen von John Surman, Barre Phillips und Stu Martin. "The Trio" war eine wirklich eigenständige und beeindruckende europäische oder besser in Europa beheimatete Band (Martin und Phillips sind Amerikaner), deren Musik zu Unrecht in Vergessenheit geraten ist.
Für Bernd Reincke, John Hughes und Chad Popple sind die Kompositionen von Surman, Phillips und Martin Sprungbrett für druckvoll swingende Momente, freie Improvisationen, knisternde Duette und unerwartete Energieexplosionen.
Eigenwillig und doch zeitlos, in der Tradition verwurzelt, manchmal mit anarchischer  Spontaneität, - Reincke//Hughes//Popple führen die Musik von "The Trio" ins Heute fort.
Bernd Reincke - bari,ss,bcl
John Hughes - b
Chad Popple - dr
rec. 2.3.2014 live at "Cafe´ Sternchance"
FMR CD431
https://soundcloud.com/bernd-reincke/reincke-hughes-popple-fo-demo